// Schweifgebiet DNV /
So there we went to roam around in Devínska Nová Ves on one murky late November day, with our main goal being to unearth and ask ourselves about possible alternative realities in this Bratislava suburb. Our itinerary was "guided by curiosity", and the following is a distillation of what we encountered.
//
/
"This is a place of the cemetery of a Jewish religious community with important history"

Reads the inscription of a humble memorial we stumbled upon while taking a shortcut through an undefined green between prefab blocks. In the mid Seventies, just in the act of literally urbanizing the location, some almighty planning official must have put his finger on the map and decided to sacrifice Devínska's Jewish cemetary for the construction of its first modern housing estate. In 2008 the local administration finally decided to create that low-key memorial installation consisting of three seemingly authentic Jewish tombstones or the remains of the latter, two of them almost entirely swallowed by the soil, surrounded by a few forlorn pieces of concrete debris. And then, out of a sudden, careless whispers in a familiar lingo approaching: a young Austrian couple in sporty outfit with a dog, walking towards the tombstones in a dauntingly determined manner, looking around to then just find that something, that in the end left us puzzled even more in our venture: a geocache.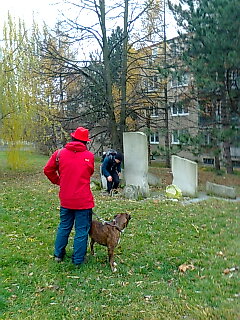 //
/
We are the 3‰

Is this evidence of a highly spirited, liquid Denwer (1) variety of the 'We are the 99%' movement? We encountered this tag on a wall next to a well-groomed piece of a sidewalk garden of sorts. And judging from this rather unusual botanical sight, does that '3‰' mean that the inhabitants of this housing estate consider themselves as some of the few Bratislavians actually creating and taking care of something genuinely 'public'?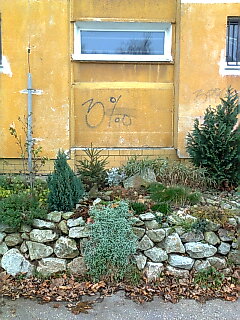 //
/
Centrope Think Tank

What from afar might look like a branch of Slovaks' favorite supermarket, is actually accommodating covert operations. The blue-white alien-like complex placed right in the middle of Devínska's central housing estate is the base of a think tank for a region as slick as its vision, a Central European baby meant to flourish: Centrope.
This catchy name has by now become a widely recognised trademark. (...) Politicians talk about CENTROPE, journalists write about CENTROPE, scientists discuss the development potential of CENTROPE, cross-border initiatives run under the CENTROPE heading, we all live in CENTROPE – the new region at the centre of Europe has found its name. (2)
Unfortunately though, the complex hosting that think tank doesn't seem to have doors.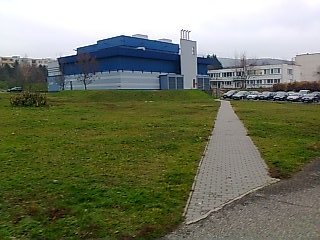 //
/
Chuck Norris vs. Maria Theresia equals freedom

This pedestrians bridge could have actually become symbol for a long-awaited joint effort by Slovakia and Austria to simply connect. Well, could, if it wouldn't have been for an American action hero throwing his almighty shadow on the game about its name, and thereby defeating the Austrian Empress Maria Theresia. And now we have this fancy bridge, carrying a neutral name ("freedom bridge"), and proving that there is not much more than a Lower Austrian variety of 'nowhere' on the other side of Morava River from Devínska Nová Ves. Well, at least apart from the baroque Schloss Hof, former imperial estate of Maria Theresia, and now trip-magnet for Slovak families thanks to its petting zoo.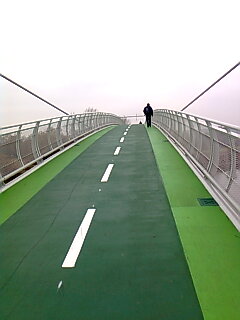 //
/
Copy-paste-paradise

Provided from scratch by the developer, these family homes are like ready-made dreams. And for any desires that cannot be fulfilled within these standardized capsules, the neighboring car manufacturing plant is providing its SUVs and even an offroad parcours:
Do you want to have fun with friends and loved ones? Give them a present. You will take home many truly adrenalin-filled experiences and emotions from our offroad track, hereby enhancing powerful and effective communication in our society. (...) We believe that the adrenalinpacked fun and unreal lifelike situations will mobilize your team and encourage all its members to relaxed cooperation. (3)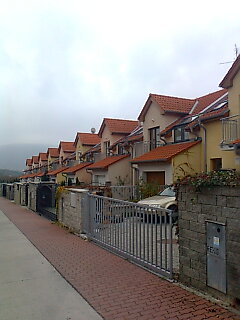 //
/
Encounter with Justin Time

At last we met the local star: Justin Time. He doesn't claim for any place, cause "inventory is loss". Instead, he links Devínska's industrial flagship with German Autobahns, hopping from there to here in no, but should even be less time. Justin is enabling economic growth in a casual manner, claiming local resources, but staying almost ephemeral.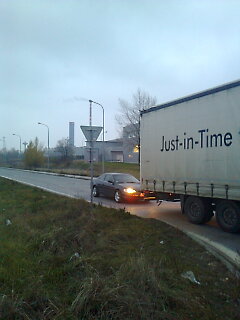 //
/
(1) Name for Devínska Nová Ves used in hip-hop circles
(2) http://www.centrope.com/repository/centrope/downloads/Publication_CENTROPE_Vision_2015_English.pdf Retrieved 2012-12-05.
(3) http://www.offroadvw.sk/your-event Retrieved 2012-12-05.